Salads for weight loss are a lot of things: tasty, filling, and incredibly nutritious – but they're not boring. You might be tempted to think that all healthy salad recipes consist of the same thing, but that's not at all true. Many of them incorporate lean proteins, like chicken and fish, as well as delicious but healthy cheeses, fruits, and dressings. Eating salad is a great way to get plenty of nutrients in addition to helping you lose weight, so check out some of these amazing and delectable weight loss salads!
---
1

Spicy Green Salad with Soy & Roasted Garlic Dressing

at eatingwell.com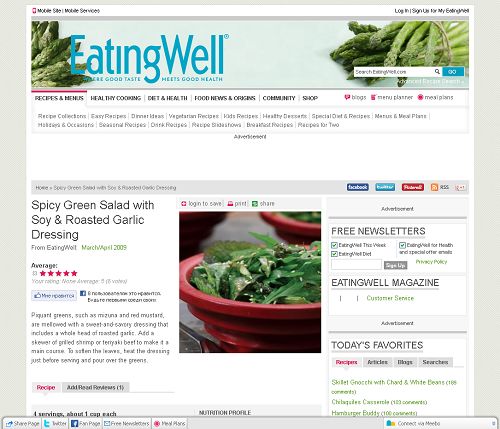 This is one of my favorite salads for weight loss because all that spice gives it a lot of bite. Plus, remember, spicy foods are generally good for weight loss as well. The heat comes from a variety of places, including the delicious dressing. It's got plenty of pepper and even fresh ginger. Delicious!
---
2

Salad Niçoise

at goodhousekeeping.com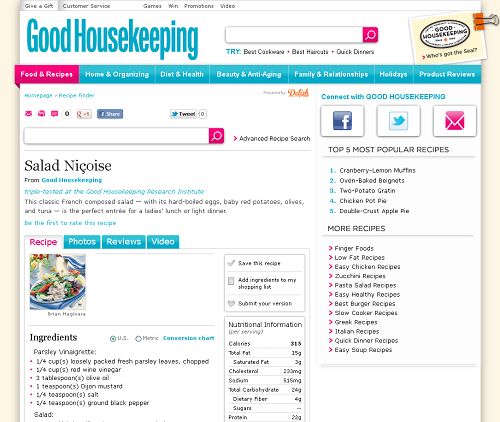 I adore Niçoise and this version only has 315 calories per serving. The vinaigrette is absolutely amazing, so much so you may want to put it on other salads. With its signature red potatoes and green beans, plus a great white tuna, it makes a fantastic meal on its own, while a smaller salad is a great starter.
---
3

Asparagus Salad

at rd.com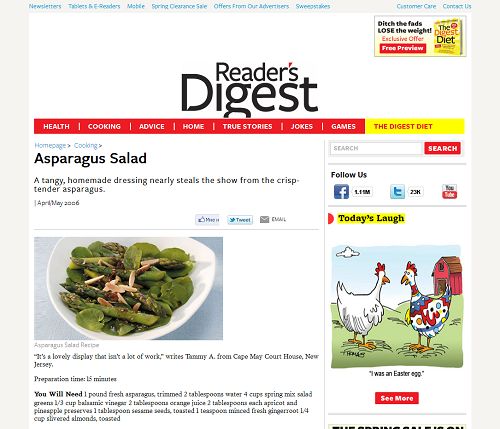 I cannot describe to you how much I love asparagus. I've been obsessed with it in various forms for the past two years, to the point where I might say it's my favorite food. Actually, a lot of healthy salad recipes include asparagus, so you can add it to any one you like. However, if you like some tang and sweetness, you'll love this variety, which includes both pineapple and apricot preserves, as well as toasted almonds.
---
4

The Wedge

at eatingwell.com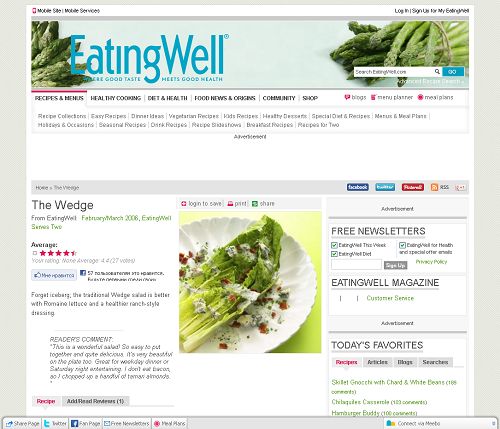 This salad is incredibly easy to make. You could eat it for lunch or dinner, perhaps along with some soup, baked chicken, or fish. Take a look at the included recipe for Buttermilk Ranch dressing as well. It tastes wonderful with this great take on the classic Wedge.
---
5

Strawberry Salad with Cinnamon Vinaigrette

at rd.com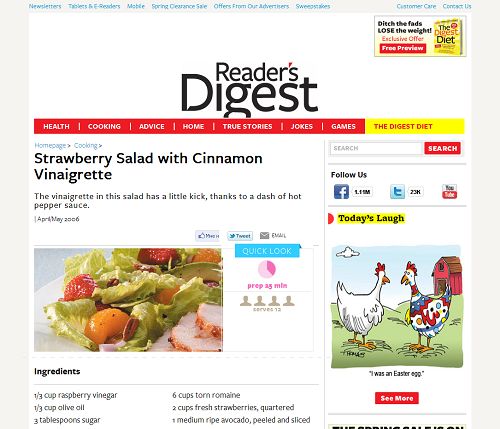 A lot of salads for weight loss incorporate fruit, so you can eat them earlier in the day as well, for breakfast or a small late morning meal. The vinaigrette has a lot of kick to it, because it uses hoth pepper and hot pepper sauce as well as cinnamon. It mixes very well with romaine lettuce, strawberries, avocado, mandarin oranges, red onions, and toasted pecans.
---
6

Spring Chicken & Blue Cheese Salad

at eatingwell.com

This is a great recipe for an entrée salad, thanks to the inclusion of chicken. It takes a little longer to make because of the protein, but it's well worth the effort. The dressing is made of a really incredible blue cheese and tarragon recipe, which is super creamy thanks to the addition of Greek yogurt. Just talking about it has me craving a bowl!
---
7

Healthy Caesar Salad for Weight Loss

at goodhousekeeping.com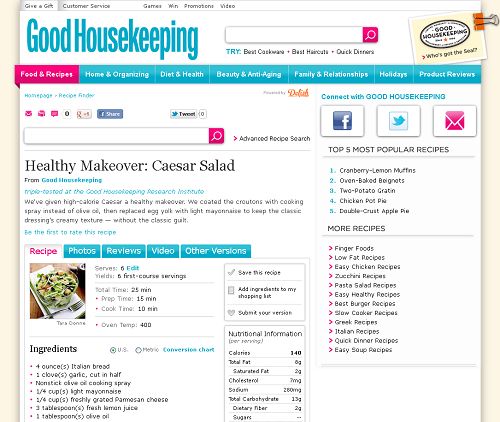 I love Caesar salad, but they really are fattening. I was elated when I stumbled across this healthy salad recipe offering alternatives to the ingredients with the highest fat content. This one is actually better, although I occasionally splurge on different croutons.
---
8

Loaded Spinach Salad

at eatingwell.com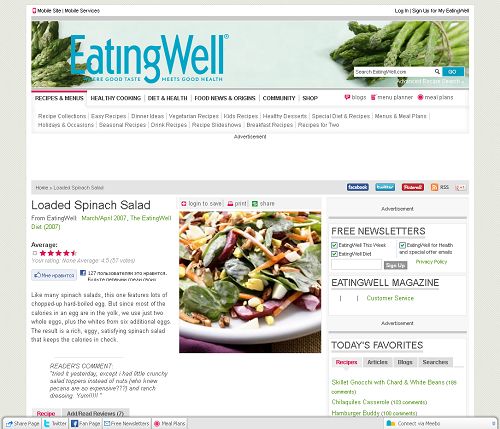 I love spinach in salads – that's about the only time I'll eat it because I don't care for it cooked. I'm a sucker for any salad that includes hard boiled eggs. There's also blue cheese dressing included, but I've tried it with other dressings and it's just as good.
---
9

Italian Tuna and White Bean Salad

at goodhousekeeping.com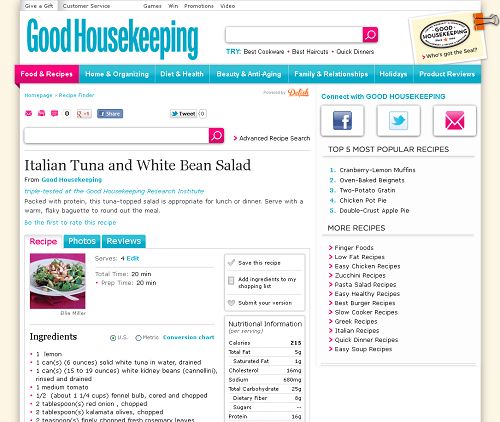 Thanks to the tuna, this is another one of the salads for weight loss that works as a main course as well. The white beans are my favorite part, but the fresh ingredients are fantastic too. You get a wonderful flavor profile with additions like fennel, onion, rosemary, and kalamata olives.
---
10

Green Goddess Salad

at eatingwell.com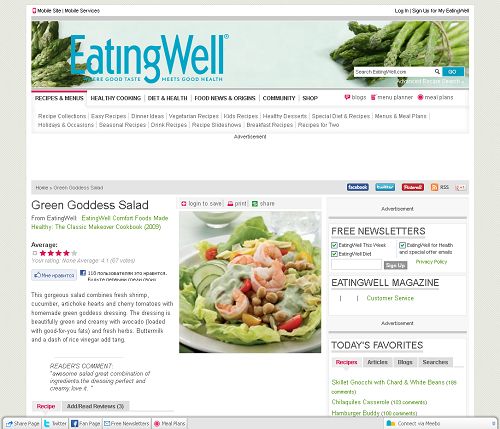 You've got to love this healthy salad recipe, if only because of the name! Actually, it's a really yummy salad as well, with its own dressing made out of buttermilk, avocado, chives, tarragon, vinegar, and anchovy. It's also got shrimp, artichoke hearts, and chickpeas, so it's really hearty and filling. Love, love, love this salad!
As you can see, there are a lot of interesting salads for weight loss from which to choose. You can eat them as a side to your main course or you can make an entrée sized salad to enjoy for lunch or dinner. Feel free to substitute some of the ingredients to fit your own taste. If you keep to the basic principles, they'll still be totally healthy. Do you have a favorite healthy salad recipe to share?
Top Image Source: weheartit.com
More
Comments
Popular
Recent