7 Ways to Shake up Your Diet for 2014 ...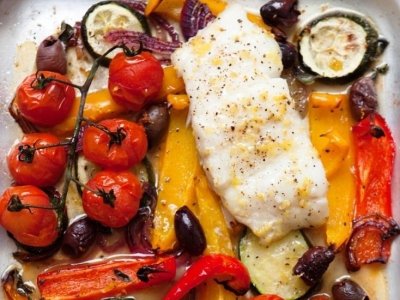 It's that time of year again ladies, the post-Christmas slump, the January blues - the perfect time to find ways to shake up your diet! Sometimes, all you need for a little pick-me-up when it's cold and grey outside is an injection of bright, colorful food filled with vitamins and minerals; it's sure to boost your mood as well as your metabolism. Here are some great ways to shake up your diet for 2014; ready, steady, go!
1.

Incorporate More Brightly Colored Foods
Now, before you go reaching for those peanut M&M's, this doesn't mean junk food. In fact, incorporating vibrant fresh fruit and vegetables into your everyday eating is one of the best ways to shake up your diet. Foods such as sweet potatoes, peppers, carrots, bananas and oranges are all high in vitamin C and antioxidants, which can help to slow the ageing process. Of course Vitamin C is also great for fending off those pesky winter colds, leaving you feeling ready to face the day!
Many of us break our New Year's resolutions because we aim too high. Instead of vowing to cut all unhealthy food from your diet, decide to make healthy swaps. So if you're craving crisps, have some carrots and hummus. If it's sweetness you're after, why not have a banana or even a baked sweet potato? Swapping sugary and fatty treats for fruit and vegetables is always a good idea; there's no need to cut out snacking completely, as grazing can be healthy provided you watch your portion sizes.
3.

Sign up for Mail-order Snacks
I get a fortnightly snack box from a little company called Graze, who provide healthier alternatives to traditional sugary, salty snacks. Graze deliver to the UK, Europe and the US, and you can choose how often you want your delivery to arrive. They have hundreds of snacks to choose from too, from dried fruit and nut mixes to savoury rice crackers and flavoured nuts. I recommend their 'Cheddar Gorge' selection with herb crackers, tasty cheese cashews and salsa corn sticks. Yum!
Olives and olive oil are an essential part of a healthy diet - if you're a fan of olives, even better! These can make a healthy snack compared to crisps and chocolate, provided you watch your portion sizes. You can also add olives or olive oil to salads, soups and more for a tasty bite!
Meal planning isn't a new concept to many people, but often busy professionals are guilty of grabbing food on the go. I know when I'm having a busy week I'll often dash to the shops and grab the first thing I see to have for dinner, which ends up costing me more and usually being a less than healthy choice. By planning your meals for the week before you head for your grocery shop, you can make sure you have a week's worth of dinners and lunches organized and ensure you pick up all the ingredients you'll need. This won't only save you money, it will help you to control what you're eating too!
On days where you feel sluggish and tired, did you ever think dehydration could be to blame? Most of us don't actually drink enough water during the day, instead filling up with tea or coffee, which actually dehydrate your body. By keeping a bottle of water on your desk at all times, you'll be encouraged to drink more, and you'll notice your energy levels will be boosted as a result.
Fish is incredibly healthy, and we should all try to include at least a couple of portions of oily fish in our diets each week. This year, why not be adventurous and try something new? Sushi is great if you're feeling brave, or you could enjoy mackerel, sardines, salmon or even whitebait. You'll find loads of recipes online to inspire you.
These are just a few ideas to help you shake up your diet this January. It can be tempting to slump on the sofa with a big bag of crisps and a mug of coffee, forgetting that in a few months you'll want to wear your bikini on the beach! Don't let the cold weather get the better of you; stick to your healthy eating plan and you'll feel healthier and happier. I'd love to hear your tips for eating healthily when it's cold and dark outside - share them with me?
{{#comments_count}} Show Commnents ({{comments_count}}) {{/comments_count}}